Smokeless Teppanyaki Table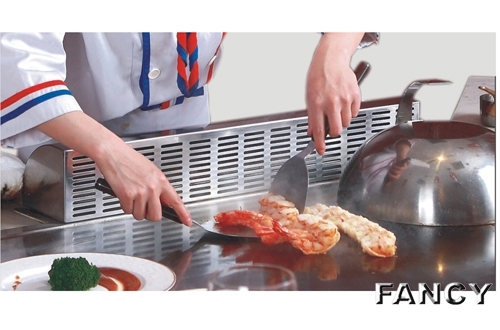 SMOKELESS TEPPANYAKI TABLE
FANCY manufactures all kinds of commercial kitchen equipments, and among them the teppanyaki table is the hallmark product with which FANCY has become synonymous as gourmet teppanyaki popularized.
FANCY's teppanyaki table comes in all kinds of shapes, sizes, and features, including:
Various models with customizable seating arrangement
Proprietary downdraft filtration system
Specialized steel processing
Patent low-resistance ventilation
FANCY's teppanyaki table integrates the patent electro-static precipitating system, German brand exhaust fan, wood-patterned steel exterior, and sandblasted tempered glass tabletop. In particular, the electro-static precipitator's special insulation design and electromagnetic field (EMF) protection differentiates itself from competing brands. The negative-ion generating technology installed on the teppan can also reduce the breakdown of protein during cooking process and prevent smoke from generating, making the griddle truly smokeless.FANCY's teppanyaki table is sold in over 30 countries and has earned loyal support from its users worldwide. It is truly the number one griddle in the world.